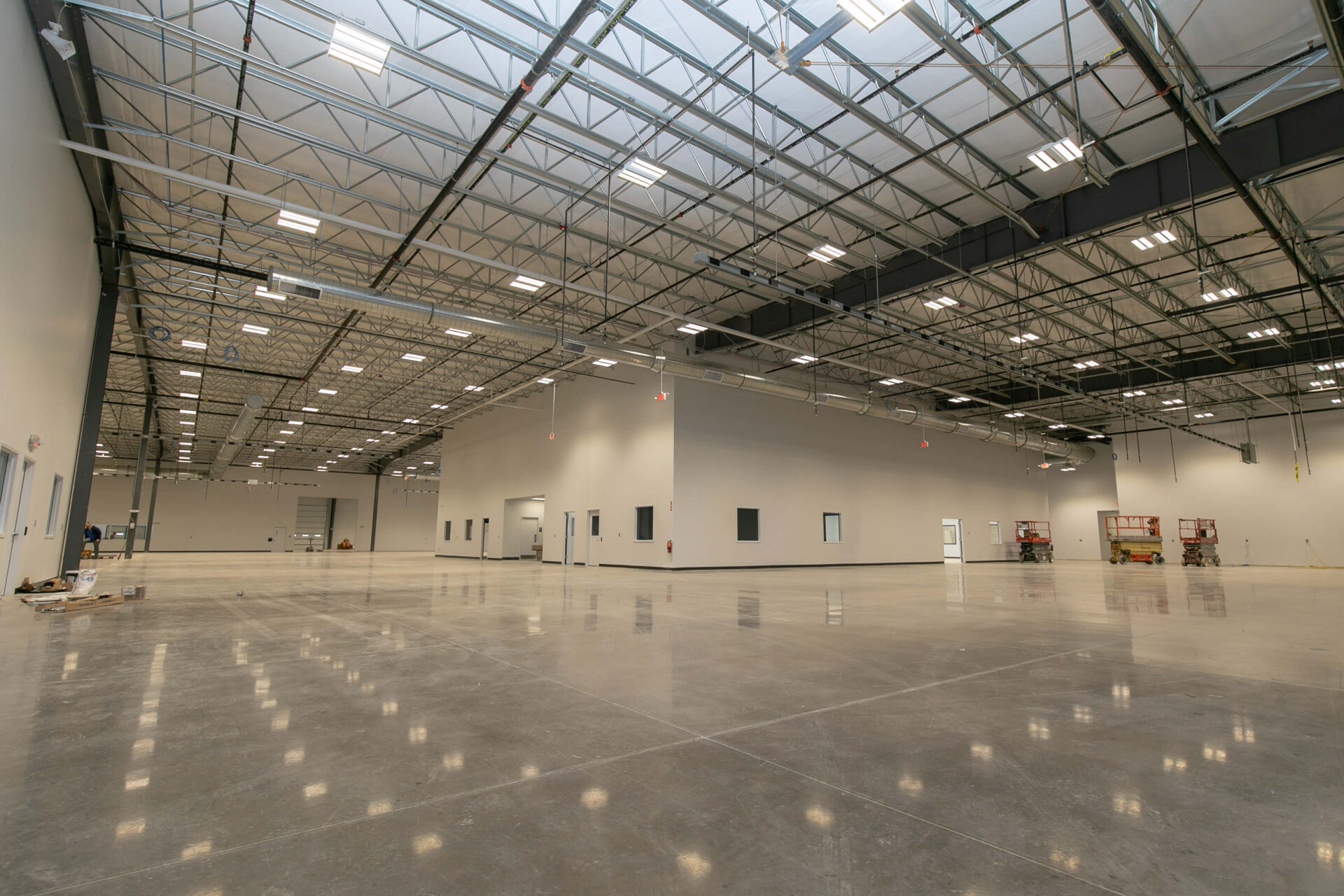 Commercial Lighting Installation
Commercial lighting is essential for businesses in and around the Rochester NY area. It helps customers find you and contributes to their first impression of your business.
Employees and customers should feel safe and welcome at your place of business, and lighting is the first thing that many people will look at, whether they think about it or not.
Let us help you find the right solution for your commercial lighting installation in Rochester NY. Contact us to learn more or to get a quote for your next lighting project.
We Cover Your Commercial Lighting Needs
From site lighting to parking lot lighting, our team is experienced in a range of commercial lighting installations and repairs.
No matter what kind of commercial lighting solution your business needs, Douglas Electric is there to help you install it.
With years of experience helping Rochester area businesses thrive and succeed with fast lighting installation and repair, our team knows what it takes to provide quality services on time.
Discover what it means to have quality professional lighting for your commercial space today.
How Much Does Commercial Lighting Cost?
Commercial lighting costs vary depending on the type of installation or repair you need, and how large a project it entails; however, your lighting solution shouldn't break the bank.
At Douglas Electric, we provide you with a service quote to ensure that you can budget properly and forecast the costs for your business.
Whether the commercial lighting project is happening in stages or all at once, we strive to provide the utmost quality customer care, and this includes transparency in pricing.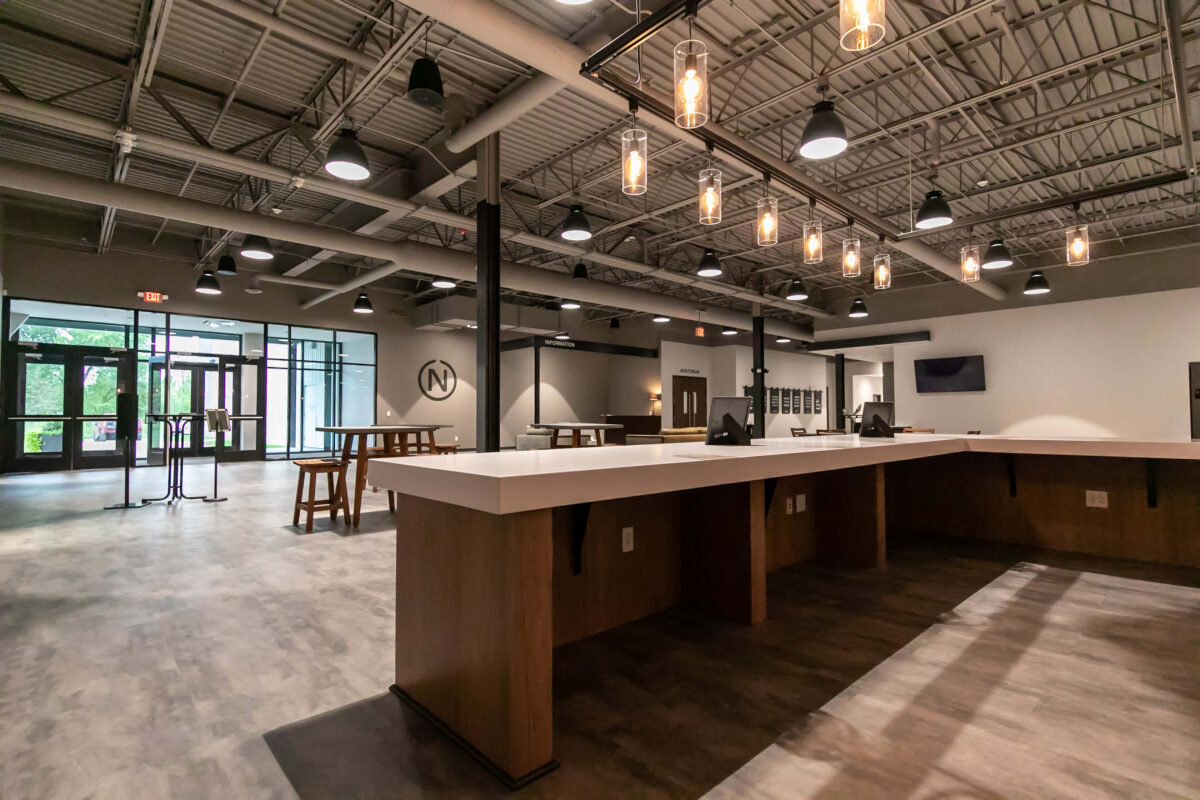 Douglas Electric Helps Your Company Shine Brighter
Lighting is more than a bare necessity.
It is a way you can to stand out and to show that you care about your customers.
Commercial lighting shines a spotlight on your business, helping your visibility.
Before customers even enter your building, they are comforted and welcomed by professional lighting installations in the parking lot or on-site.
Faulty, dim, or broken lighting are all signs that your business has neglected their property and reflects on your business' values.
Don't let this happen to you. Call Douglas Electric today for all your lighting needs to ensure that your business shines bright with reliable, energy efficient commercial lighting solutions every day of the year.
Site lighting is an important part of the safety and security of your business, whether it is to prevent break-ins, or to keep customers safe as they navigate your property. This type of lighting is also often used as accent lighting or to highlight decorative structures and landscaping across the property.
No matter what your needs are for site lighting, Douglas Electric can help. We provide solutions for site lighting installation, as well as site lighting repair.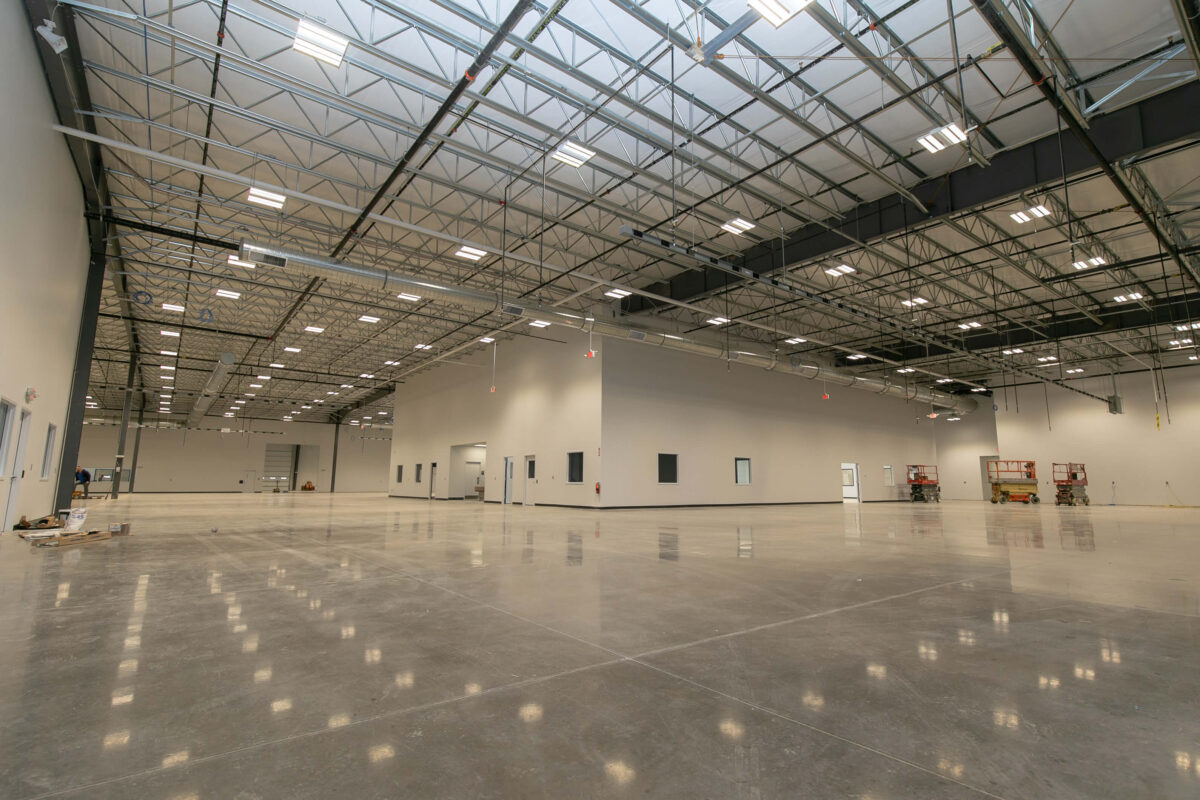 Parking lot lighting is a critical component of your business, no matter how large the lot is. There are a lot of options for parking lot lighting as well; HID (High Intensity Discharge) pole lighting is functional and durable, but not as well suited to covered parking lots or garages, where LED Poles or other Building mounted LED fixtures are better suited.
No matter the situation, Douglas Electric can help you plan your parking lot lighting and have it installed in no time, helping you get your business ready for new customers.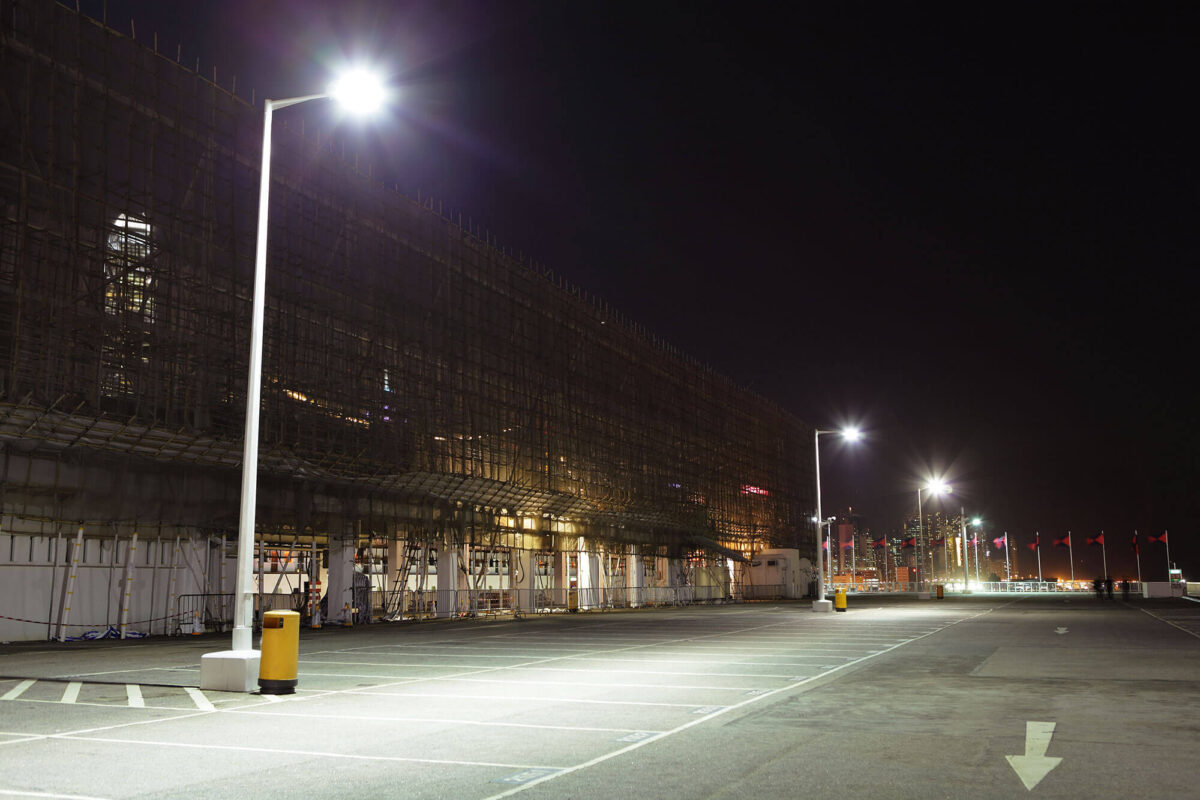 Rain or shine, pole lighting is seen as one of the most reliable forms of commercial lighting. It is also versatile, providing atmospheric light from elegant pole fixtures in the local park, to serving as a functional and efficient pole lighting in the neighboring parking lot.
For reliable, commercial grade pole lighting, your business deserves to work with the best. Douglas Electric helps you source, install, and test pole lighting to ensure that it remains functional throughout the year.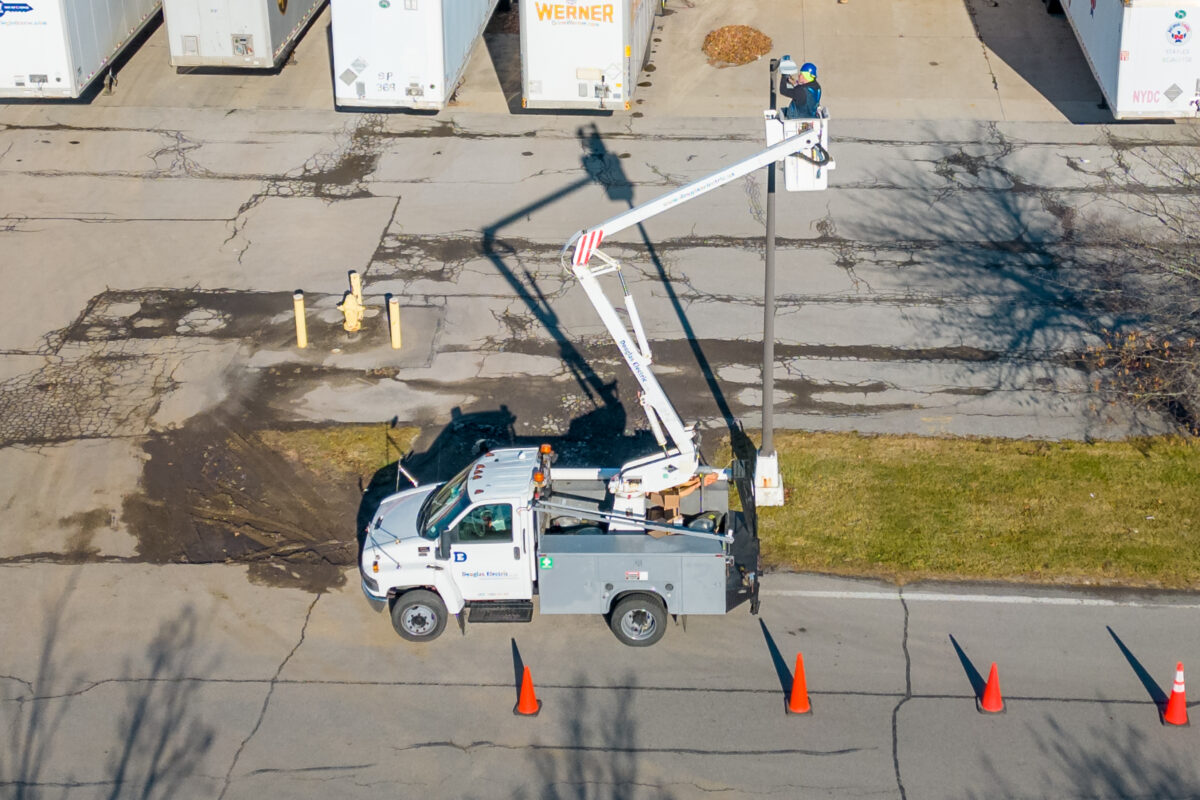 Contact Us for Your Commercial Lighting Needs
No matter what kind of commercial lighting installation Rochester NY needs, we are there to help.
Douglas Electric has been the top lighting company in the area for years, and we take pride in providing solutions that our clients can rely on.
Contact us today to learn more about our services or get a free quote.
Do I Need an Electrician to Change a Light Fixture?
Yes, you should always hire a  licensed electrician to change a light fixture. Whether it is the fixture itself or the bulb, commercial lighting can have a lot more voltage/ampacity to them, making potential shocks more dangerous than the standard residential light fixture.
Often, these commercial lighting solutions require special bulbs based on the application said property is  used for or may require special installation that can be risky for someone without an electrician's experience and equipment.
Commercial Lighting Solutions Made Easy
When it comes to commercial lighting installation Rochester NY is full of businesses trying to stand out, but many have not designed their lighting solutions to match their business. At Douglas Electric, we'll help you find the right lighting solution for your commercial property, providing you with lighting that will catch the customers' eye and make them feel welcome.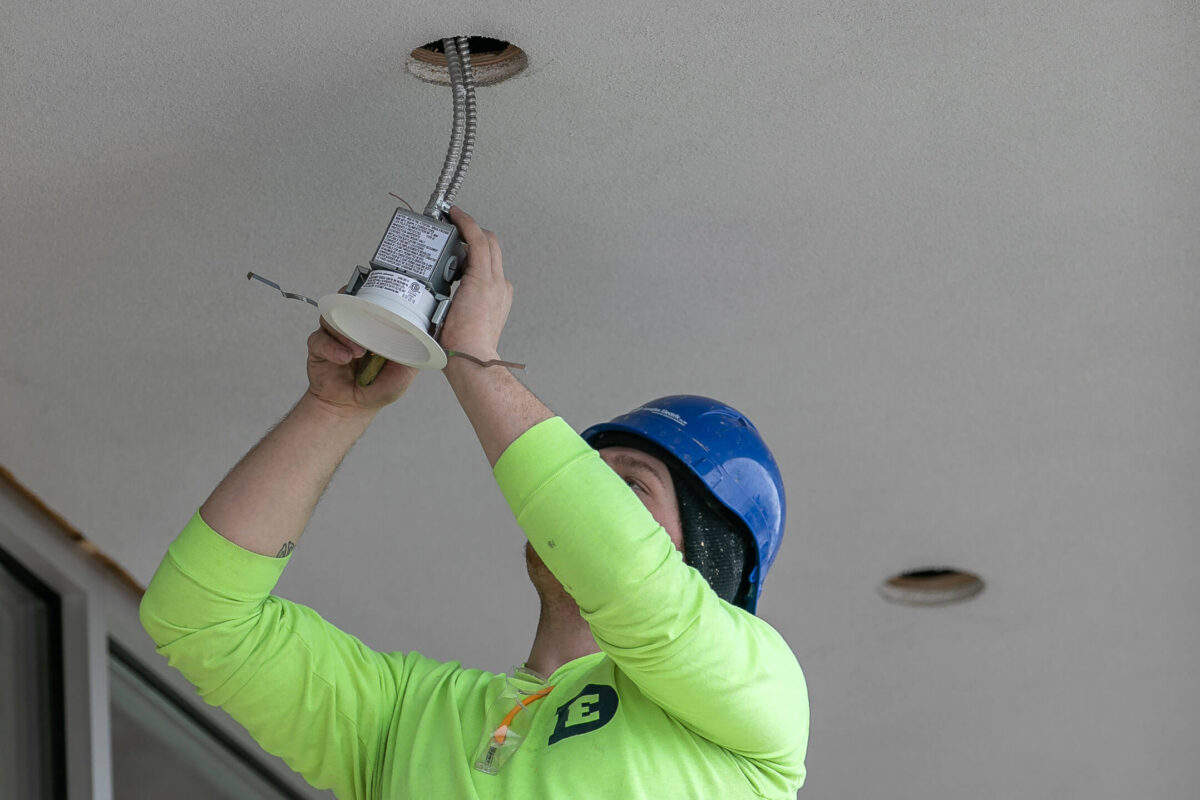 Electrical Projects that Make a Difference
Electrical work is more than wires and tubing; it makes a difference in how we interact with our world and connect with others.
We believe the quality of work we do directly reflects on our work ethic and dedication to the community. As your company's commercial electrical contractors, we are connecting the world one wire at a time, helping create a more connected Rochester.
Our commercial services are suitable for any size company, from Mavis Discount Tire in Webster to Frito Lay in New Paltz. Make the right choice and choose a contractor whose knowledgeable and experienced in electrical installation and repair.
We are proud to provide the services for the following industries and more: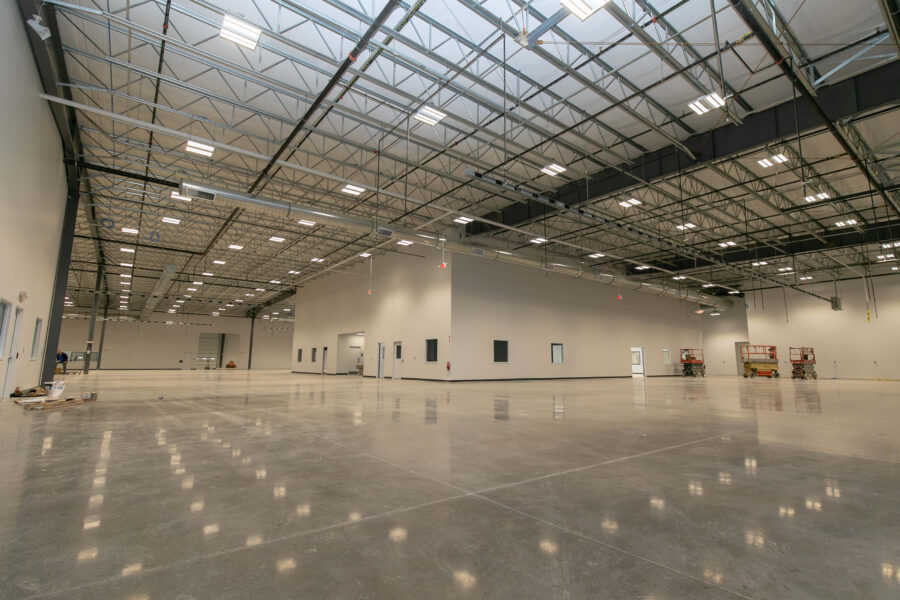 Commercial
Warehouse and manufacturing facilities will benefit from a project managed by Douglas Electric. We work closely with the business owners to understand their current and future needs to provide a properly lit space and adequate power sizing for their custom project.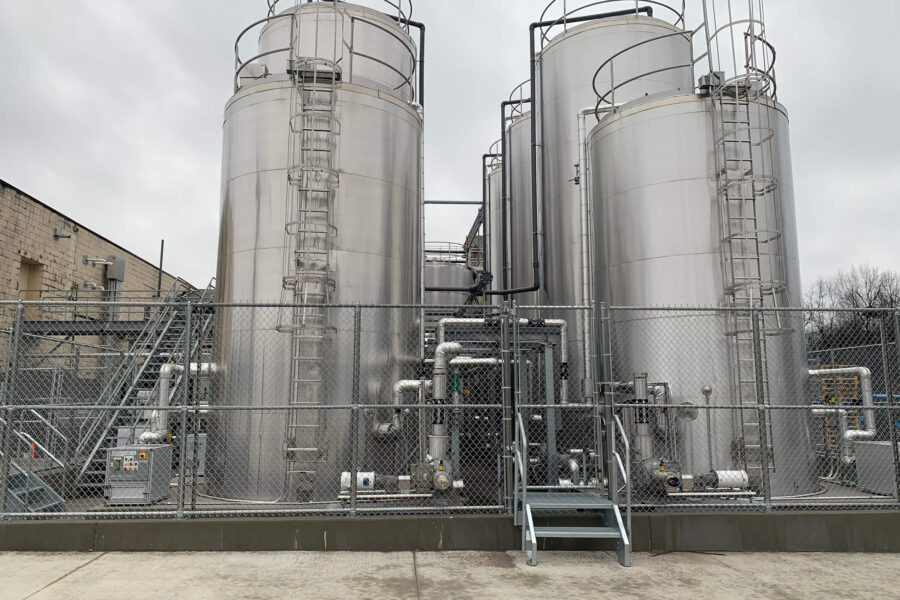 Industrial
When it comes to production lines or manufacturing facilities, time is money. Whether you're looking for service to existing equipment, installation of new systems, preventative maintenance, power quality testing or infrared scanning, we have the solution for your needs.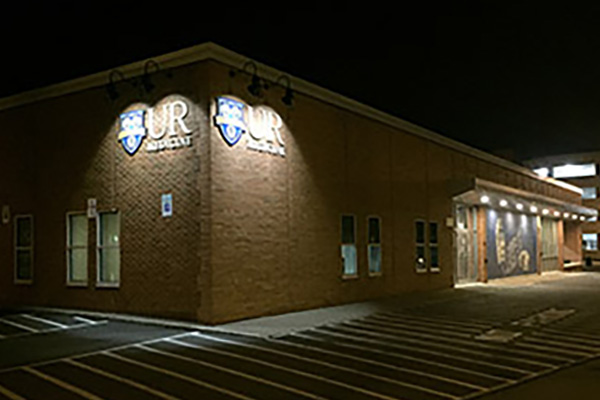 Medical
Our long history of working within the industry will benefit your project. Douglas Electric has an innate understanding of the code that has its own section on medical and outpatient facilities as it pertains to electrical, communications, and fire alarm installations. We will execute your plans with precision, save you time, money and frustration.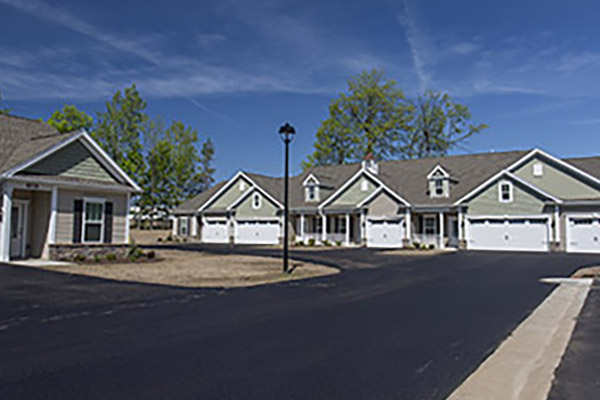 Multi-Family / Site
We understand how important proper lighting distribution, utility company transformer placement and power distribution is for your site plans. The Douglas Electric team works per the NEC code as well as convenience and necessity in every day living to complete each residential unit within an apartment complex, townhome village or multifamily dwelling.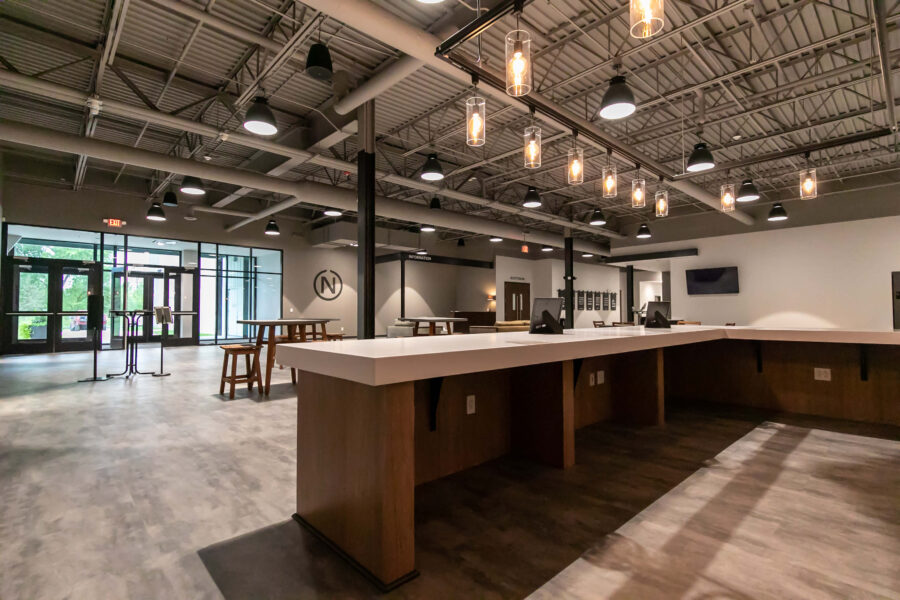 Non-Profit / Educational
Working within your budget and timeline is not a problem! Our team works tirelessly and efficiently to complete your project within your schedule. Safety is our number one priority always and we work with you to ensure minimal downtime for your organization.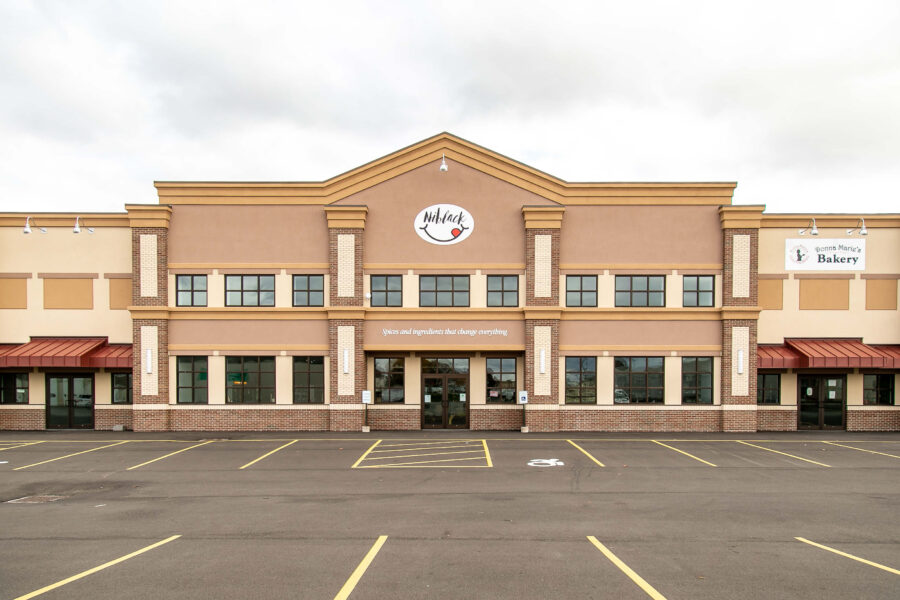 Retail / Franchise
Franchises are a special type of project that needs detailed focused technicians with a knowledge of the strict process and guidelines. Douglas Electric has a thorough understanding of the importance of national account guidelines to ensure that the consistency of the design and electrical detail is met.
From my first contact with Aaron and the entire Douglas Electric team, they have been an incredible addition to our vendor stable. They are reliable, conscientious, and are very effective in creating solutions to "outside of the box" problems. In my twenty plus years in construction, I have never had the opportunity or have been blessed with an electrical contractor that has all these attributes. Now, into our third year of working together, I expect our working relationship to continue to prosper for the benefit of both our companies.
Kevin Williams
— Windward Communities
Douglas Electric has a history of delivering quality projects, and their team is knowledgeable and trustworthy.
Karl Schuler
— Taylor the Builders
Aaron and the team at Douglas Electric are second to none. We have used Douglas Electric for new construction projects, service upgrades, repairs/maintenance and it is my honor to give them the highest recommendation possible in all areas. I truly value my partnership with Douglas Electric and appreciate their support in completing projects on time and under budget. I have complete trust in Aaron and the crew at Douglas and often rely on them for creative solutions to minimize cost and bring the project to completion.
Brendan Tydings
— Genesee Valley Regional Market Authority
As a company that specializes in emergency Fire & Water Cleanup & Restoration, response time is vital to us and our customers. Douglas Electric has been able to provide us with responsive, quick, and fair service – from the staff that works in the field, to everyone in their office, especially Nicole. We trust them with our customers and our own building. Thank you Douglas Electric!
Andrea Necci
— SERVPRO of East Monroe County
At Mizkan we have had the pleasure of working with Douglas Electric for a while now, and they are always professional with the work that they do no matter how big or small the job. If you're looking for a dependable and professional electrician, then Douglas Electric are the right guys for you.
I've used Douglas Electric on multi-million dollar projects and much smaller projects. Whenever I call Aaron he always picks up and has been very reliable and easy to work with.
Allan Stern
— Stern Properties
I have always enjoyed our longstanding relationship with Douglas Electric. The team at Douglas always endeavors to do a quality job, they treat their customers with a straightforward approach, and they make it easy to service the electrical needs of our construction projects. Aaron's honest approach to doing business is always appreciated by our team at LeFrois and also our end customers.
John LeFrois
— LeFrois Builders & Developers
Why You Need a Professional Team
A professional team of certified electricians is an important step when working with commercial lighting.
No matter what type of lighting you are working with, the professionals at Douglas Electric know how to provide quality services, installing premium-grade lighting solutions that are energy efficient and look professional and welcoming.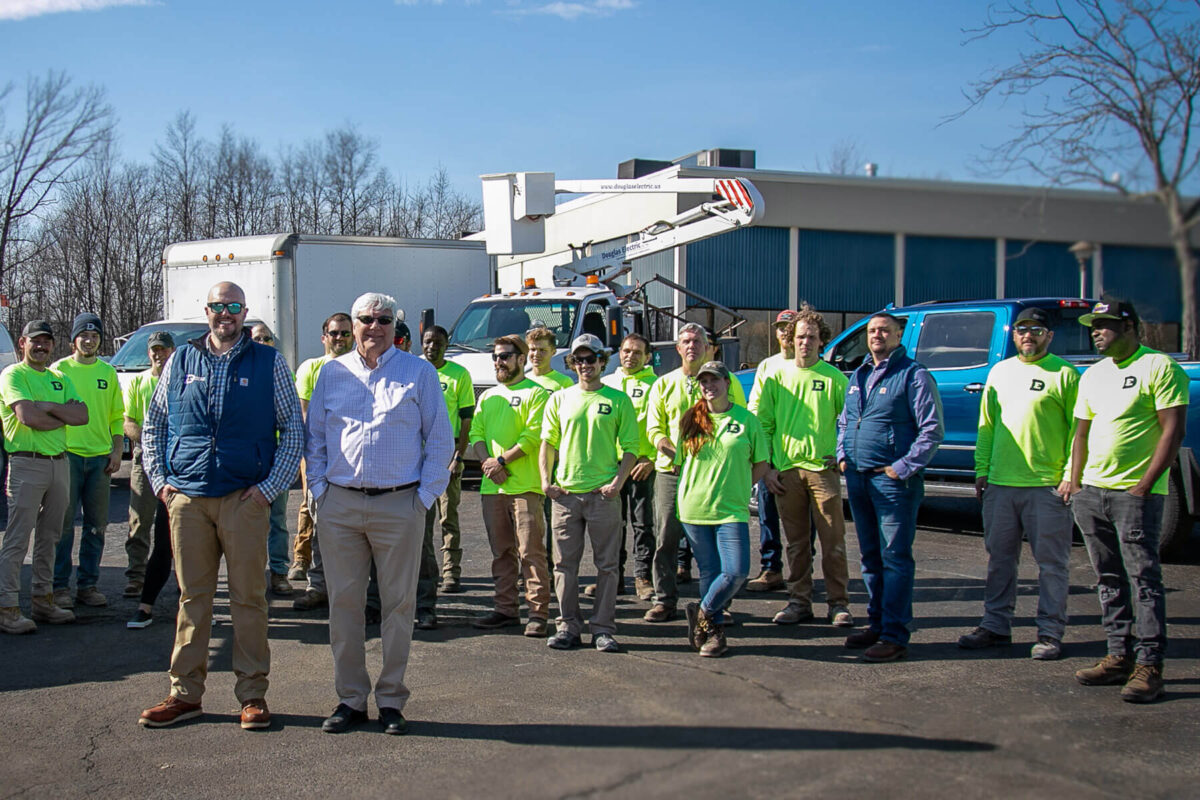 Your business deserves to be in the spotlight.
We're not talking just for the award-winning services and products that you provide to your customers, but customers should be able to find your business and feel safe at your location with its well-lit parking lot, exterior, and interior.
For all your commercial lighting installations in and around Rochester, NY, give Douglas Electric a call.
Our team has the artistic eye to design a commercial lighting solution that makes your business stand out, and the certifications and experience to make it happen.
Or Call us at
(585) 288-3250
Do you need immediate assistance? We offer 24/7 emergency support at a reasonable price. Click here now to get in touch with our service department.